Independence and interdependence: The diversity of the Brazilian family from a cultural perspective
Mauro Luis Vieira

Universidade Federal de Santa Catarina Departamento de Psicologia Campus Universitário - Trindade 88032-480 Florianópolis (SC), Brasil

Gabriela Dal Forno Martins

Universidade Federal do Rio Grande do Sul Instituto de Psicologia Programa de Pós-graduação em Psicologia Núcleo de Infância e Família Ramiro Barcelos Street, 2600 - Santa Cecília 90035-003 - Porto Alegre (RS) Brasil

Eulina da Rocha Lordelo

Universidade Federal da Bahia, Faculdade de Filosofia e Ciências Humanas, Departamento de Psicologia. Estrada de São Lázaro, 197 Federação 40210-909 - Salvador (BA) Brasil
Keywords:
Family, parental beliefs, parental practices, cultural models
Abstract
This study aimed to compare sociodemographic characteristics, psychosocial and maternal beliefs in families of two distinct contexts in Brazil, based on the prototypical cultural models of independence and interdependence. Overall, 112 mothers living in two different cities (50 in a city with a high human development index - HDI - and 62 in another city with a low HDI) responded individually to a questionnaire. Through statistical analyses it was revealed that there were more differences when comparing sociodemographic variables than psychosocial variables related to the mother's infancy and current life. Results also indicated that there are differences between the contexts in relation to the value attributed and to the performance of primary care practices, child stimulation and socialization goals. Results from both contexts combined confirmed the expectations regarding the cultural models of independence and interdependence, indicating the relevance of these dimensions to the study of family and its diversity.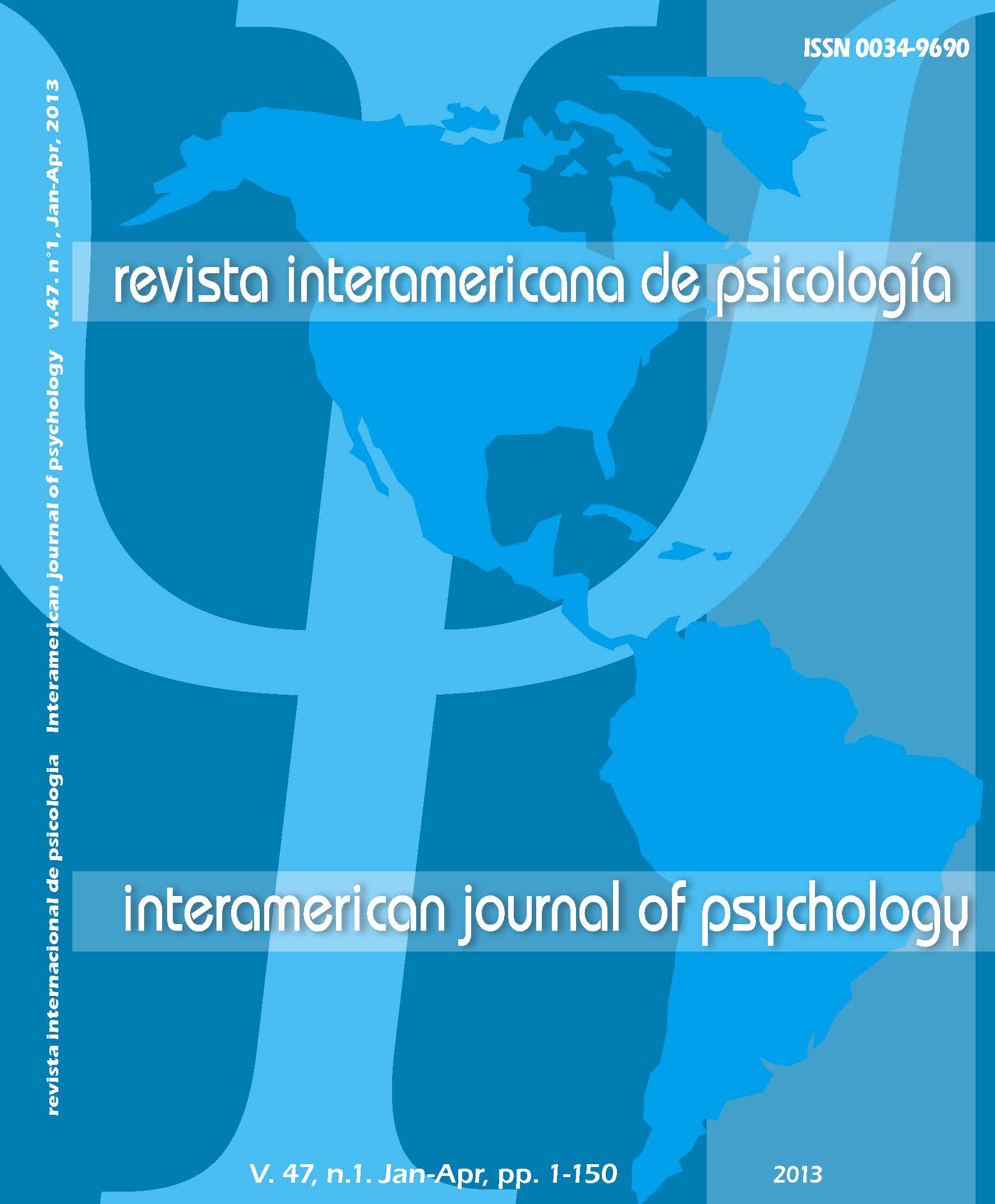 How to Cite
Vieira, M. L., Martins, G. D. F., & Lordelo, E. da R. (2013). Independence and interdependence: The diversity of the Brazilian family from a cultural perspective. Revista Interamericana De Psicologia/Interamerican Journal of Psychology, 47(1). https://doi.org/10.30849/rip/ijp.v47i1.207
Copyright (c) 2016 Mauro Luis Vieira, Gabriela Dal Forno Martins, Eulina da Rocha Lordelo
This work is licensed under a Creative Commons Attribution-NonCommercial 4.0 International License.
Authors who publish with this journal agree to the following terms:
Authors retain copyright and grant the journal right of first publication, with the work [SPECIFY PERIOD OF TIME] after publication simultaneously licensed under a Creative Commons Attribution License that allows others to share the work with an acknowledgment of the work's authorship and initial publication in this journal.
Authors are able to enter into separate, additional contractual arrangements for the non-exclusive distribution of the journal's published version of the work (e.g., post it to an institutional repository or publish it in a book), with an acknowledgment of its initial publication in this journal.
Authors are permitted and encouraged to post their work online (e.g., in institutional repositories or on their website) prior to and during the submission process, as it can lead to productive exchanges, as well as earlier and greater citation of published work (See The Effect of Open Access).