La Cultura, el poder y los patrones de interacción vinculados a la infidelidad
Mirna García-Méndez

UNIVERSIDAD NACIONAL AUTONOMA DE MEXICO

Sofia Rivera-Aragón

UNIVERSIDAD NACIONAL AUTONOMA DE MÉXICO

Rolando Díaz-Loving

UNIVERSIDAD NACIONAL AUTONOMA DE MÉXICO
Abstract
El propósito de la investigación fue identificar las variables que intervienen en la predicción de la conducta y en las consecuencias de infidelidad. Participaron de manera voluntaria 330 hombres y mujeres de la ciudad de México, casados o en cohabitación y con hijos. Respondieron cuatro instrumentos: Escala diagnóstica del patrón de acercamiento/alejamiento (Sánchez, 2000), escala de premisas histórico-socio-culturales (Díaz-Guerrero, 2003b), escala de estrategias de poder (Rivera, 2000) y el inventario multidimensional de infidelidad (Romero, Rivera & Díaz-Loving, 2007). Resultado de regresiones múltiples paso a paso, se obtuvo que los factores que predicen la conducta de infidelidad en hombres son el patrón de alejamiento, el poder negativo y las premisas. Las consecuencias de infidelidad no fueron predichas por las variables incluidas en el estudio. En el caso de las mujeres, únicamente se predijo una de las dimensiones de la conducta infiel: el deseo de infidelidad emocional.
Palabras clave: Infidelidad, poder, premisas, patrón de interacción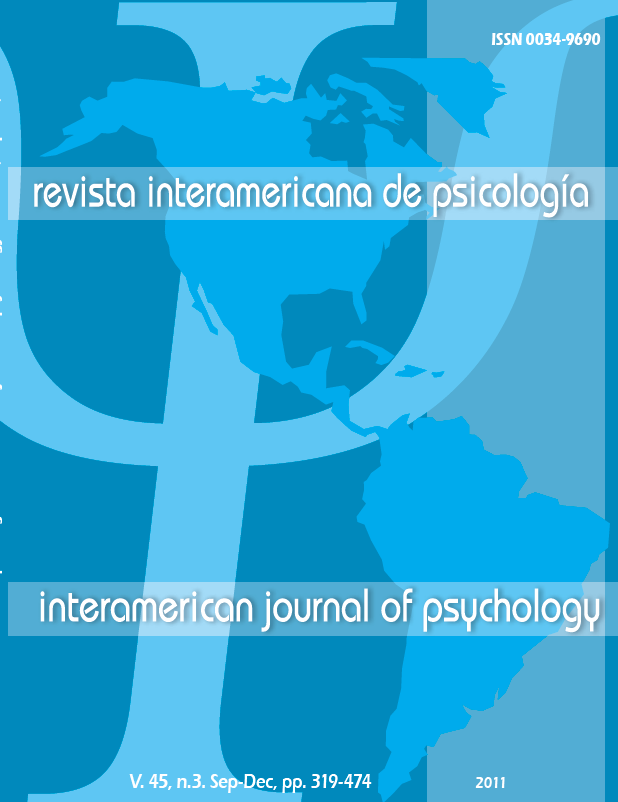 How to Cite
García-Méndez, M., Rivera-Aragón, S., & Díaz-Loving, R. (2013). La Cultura, el poder y los patrones de interacción vinculados a la infidelidad. Revista Interamericana De Psicologia/Interamerican Journal of Psychology, 45(3). https://doi.org/10.30849/rip/ijp.v45i3.172
Copyright (c) 2016 Mirna García-Méndez, Sofia Rivera-Aragón, Rolando Díaz-Loving
This work is licensed under a Creative Commons Attribution-NonCommercial 4.0 International License.
Authors who publish with this journal agree to the following terms:
Authors retain copyright and grant the journal right of first publication, with the work [SPECIFY PERIOD OF TIME] after publication simultaneously licensed under a Creative Commons Attribution License that allows others to share the work with an acknowledgment of the work's authorship and initial publication in this journal.
Authors are able to enter into separate, additional contractual arrangements for the non-exclusive distribution of the journal's published version of the work (e.g., post it to an institutional repository or publish it in a book), with an acknowledgment of its initial publication in this journal.
Authors are permitted and encouraged to post their work online (e.g., in institutional repositories or on their website) prior to and during the submission process, as it can lead to productive exchanges, as well as earlier and greater citation of published work (See The Effect of Open Access).