Estudio exploratorio de las propiedades psicométricas de la Escala de Personalidad Creadora (EPC) en su versión Heteroevaluación
Gabriela Krumm

Universidad Adventista del Plata, Argentina

Viviana Lemos

Viviana Lemos Universidad Adventista del Plata, Argentina
Abstract
El objetivo de esta investigación fue evaluar de modo exploratorio el funcionamiento en nuestro medio,
de la Escala de Personalidad Creadora (EPC) de Garaigordobil (2004) en su versión heteroevaluación.
La muestra estuvo constituida por 160 padres, con hijos de 9 a 12 años, seleccionados de manera intencional
de la provincia de Entre Ríos (Argentina). Se analizó el poder discriminativo de los ítems y
la consistencia interna por medio del coeficiente Alpha de Cronbach. Tanto el índice de Kaiser-Meyer
y Olkin (KMO) y el Test de Esfericidad de Bartlett, indicaron la viabilidad de factorizar la escala por
lo que la estructura del instrumento fue estudiada a través de un Análisis Factorial de componentes
principales con rotación oblicua. El instrumento presentó una adecuada consistencia interna y todos
sus ítems resultaron discriminativos. Por otra parte, al comparar la estructura factorial de la versión
autoevaluación presentada por la autora, con la versión heteroevaluación, obtenida en este estudio, se
observó que si bien se mantuvo el número de factores en cinco, tal como propone la autora, los ítems
se redistribuyeron, generando una nueva clasificación de los mismos.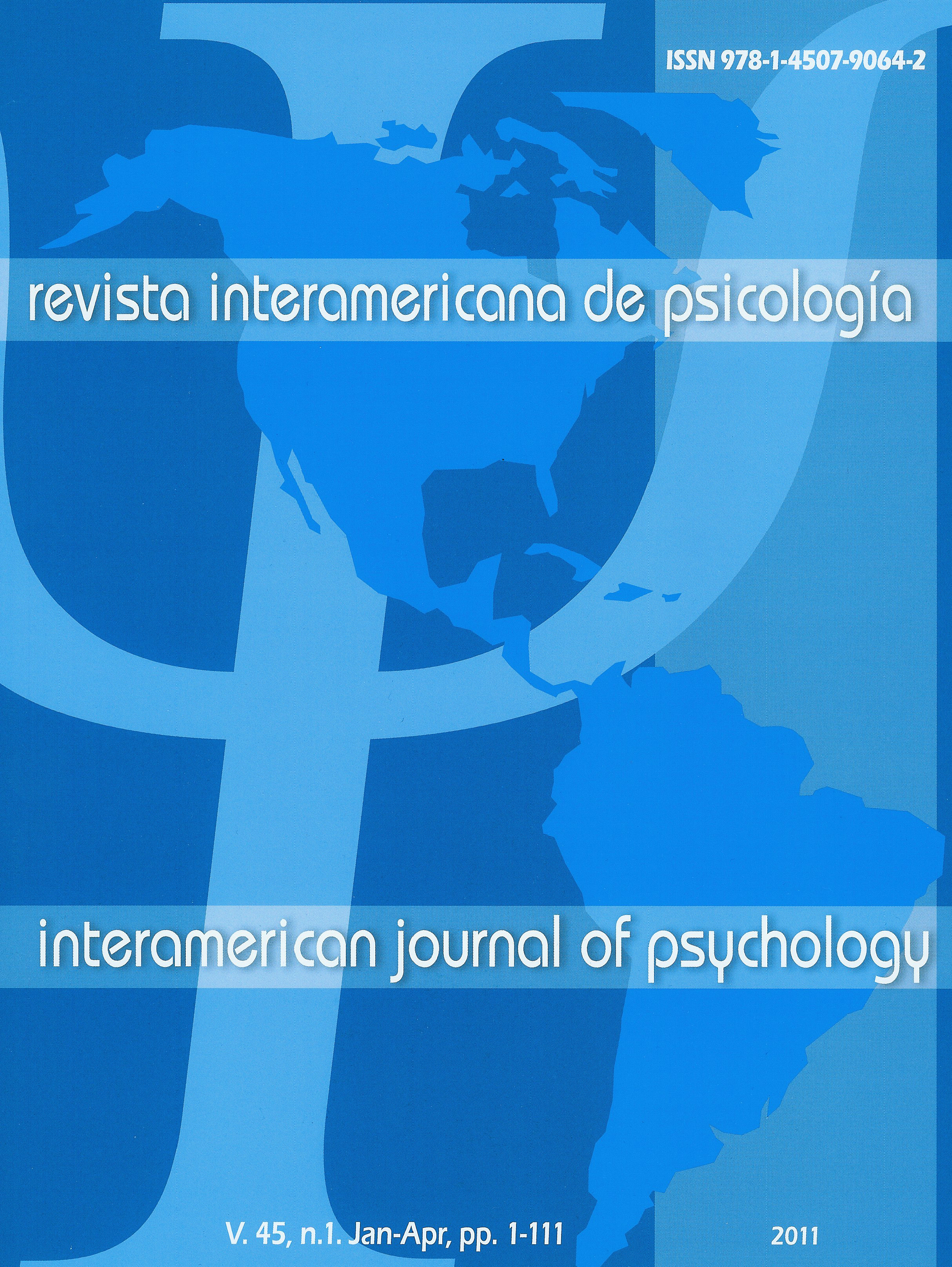 How to Cite
Krumm, G., & Lemos, V. (2012). Estudio exploratorio de las propiedades psicométricas de la Escala de Personalidad Creadora (EPC) en su versión Heteroevaluación. Revista Interamericana De Psicologia/Interamerican Journal of Psychology, 45(1). https://doi.org/10.30849/rip/ijp.v45i1.133
Copyright (c) 2016 Gabriela Krumm, Viviana Lemos
This work is licensed under a Creative Commons Attribution-NonCommercial 4.0 International License.
Authors who publish with this journal agree to the following terms:
Authors retain copyright and grant the journal right of first publication, with the work [SPECIFY PERIOD OF TIME] after publication simultaneously licensed under a Creative Commons Attribution License that allows others to share the work with an acknowledgment of the work's authorship and initial publication in this journal.
Authors are able to enter into separate, additional contractual arrangements for the non-exclusive distribution of the journal's published version of the work (e.g., post it to an institutional repository or publish it in a book), with an acknowledgment of its initial publication in this journal.
Authors are permitted and encouraged to post their work online (e.g., in institutional repositories or on their website) prior to and during the submission process, as it can lead to productive exchanges, as well as earlier and greater citation of published work (See The Effect of Open Access).